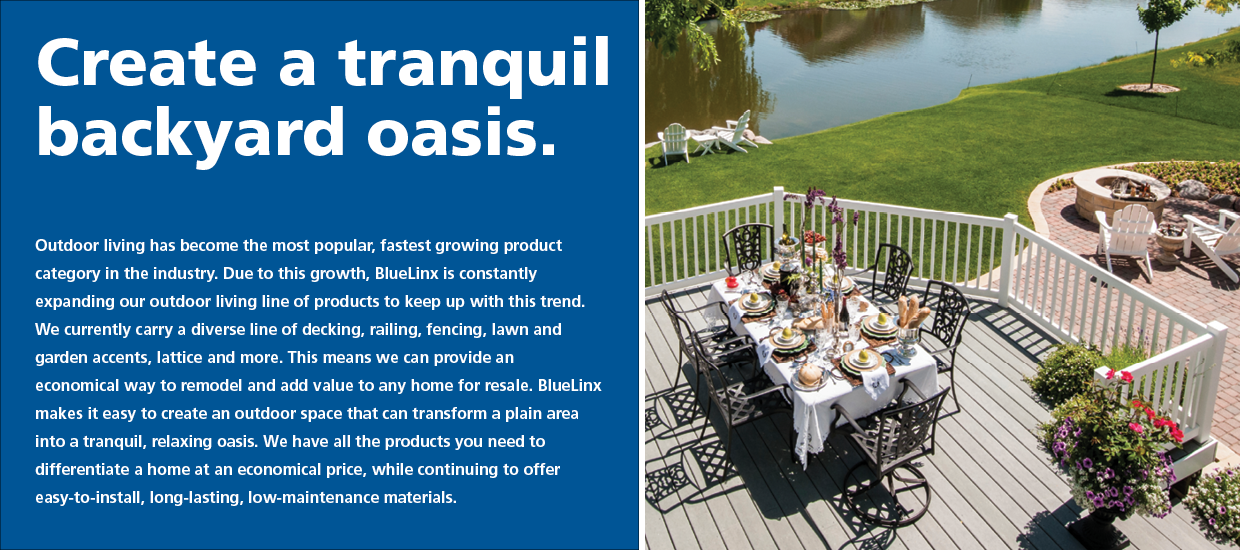 Composite
The addition of plastic or other compounds to wood fiber makes our composite decking and other outdoor materials more durable, and great for regions with extreme climates. Composite requires less maintenance and upkeep than wood, as it does not require annual staining or weather-repellant sealing; and composite repels UV rays and is resistant to splintering, cracking, rot and insects. At BlueLinx, our composite products come in a variety of styles and rich colors, and are made of recycled materials making them the eco-friendly choice.
Wood
is a classic choice for creating a more traditional look for decks or other outdoor structures. Wood can also offer structural strength to a whole property, and some wood varieties have a natural resistance to insects and decay. Woods like cedar and redwood are resistant to UV rays and have a natural water-repellant, which makes them an excellent choice for wet climates. For drier climates, a more economical choice is a softwood like pine. Exotic hardwoods like Balau and Ipe are currently a popular choice for their unique grains and colors, and since they are three or more times as hard as traditional woods, they offer increased durability.
Choosing the Right Materials
---
Features & Benefits
Our experienced sales staff can assist you in selecting the right materials for your job at the cost you determine.
BlueLinx offers convenient delivery of outdoor living products to your store at least once a week.
You can order most materials in job lot quantities, so you can purchase just the amount of materials you need so there's no overage.
---