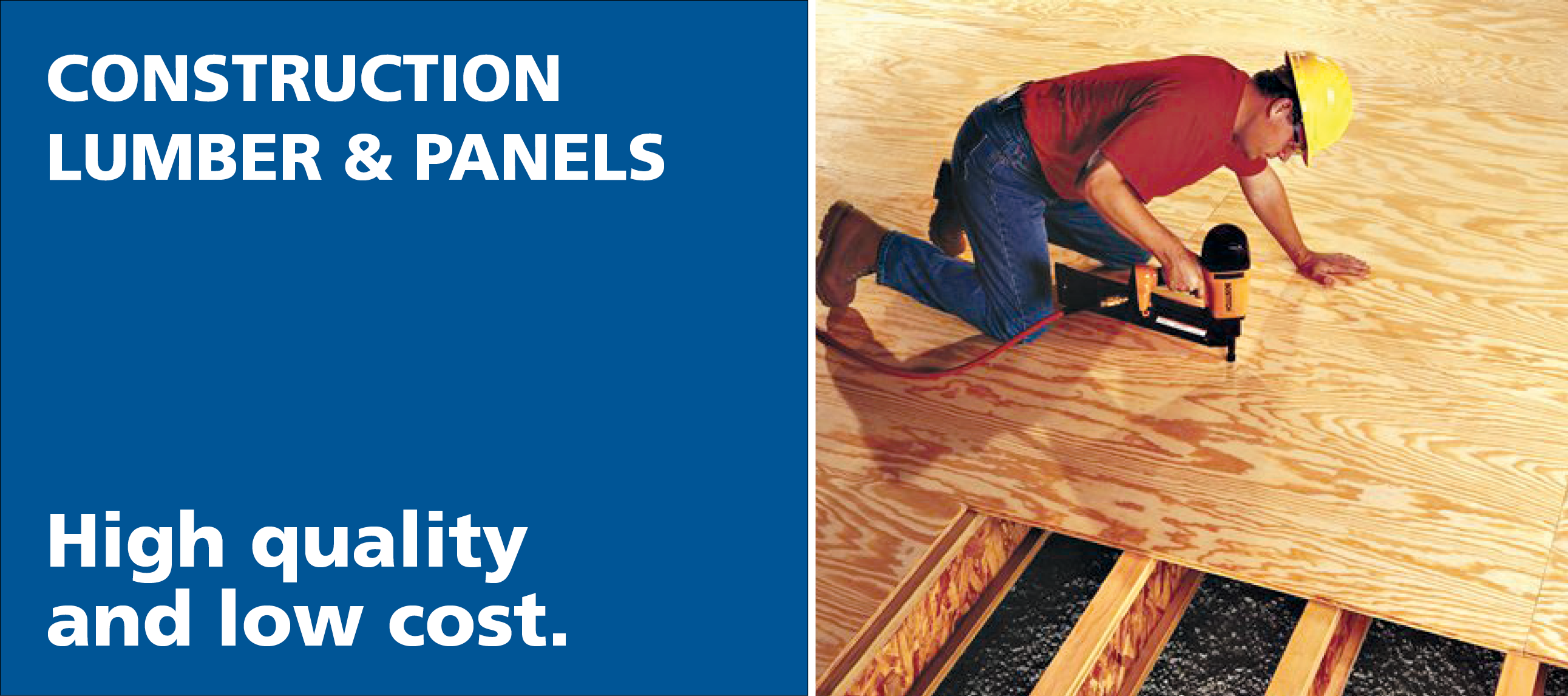 Lumber
BlueLinx harnesses the power of global supply chain sourcing to provide you with high-quality, low-cost construction lumber. We stock and distribute a full line of dimensional and stud lumber in a species mix customized to each market, including European spruce. Our product assortment includes 2" X 4" through 2" X 12", along with posts and timbers 8' through 36'.
Sturd-I-Floor
Sturd-I-Floor is a combination subfloor-underlayment produced from OSB or plywood. These panels feature a built-in underlayment that allows the convenience of using only Sturd-I-Floor under certain finish flooring, especially carpet and pad. This single layer construction is a cost-saving and time-saving solution that works especially well with multifamily buildings, because Sturd-I-Floor is quieter underfoot when installed using the APA Glued Floor System. While Sturd-I-Floor is manufactured as a combination subfloor-underlayment that can be used without an additional layer under carpet and pad, some finish floorings, like vinyl or ceramic tile, also require the addition of an underlayment over the Sturd-I-Floor.
Plywood Siding
A type of wood siding that can be produced from four types of tree species, plywood sidings, if properly maintained, can last more than 30 years. Many synthetic materials have been developed to replace wood, but the choice of wood siding or their substitutes should be considered with the climate factor in mind. For instance, some varieties such as redwood are resistant to winds, but can get damaged by moisture. Synthetic materials provide good protection, but do not display the same texture and design maturity as wood. The pricing of wood siding materials is different in each market. Customers who want woodsided homes that use cedar will pay more, but the maintenance costs less. Proper maintenance of plywood siding includes power washing, sealing, staining, and polishing with proper varnishes.
Sanded Plywood
Sanded plywood is a structural plywood panel with face and back plies that are sanded smooth in the manufacturing process. The panels have three or more cross-laminated layers of wood veneer, each layer consisting of one or more plies. Sanded plywood is used in a wide variety of applications. Interior uses include cabinetry, furniture manufacturing, paneling, and shelving. Exterior uses include specialty construction and industrial applications such as fences, soffits, truck and boxcar linings, commercial refrigerators, and other applications in which exposure to high moisture is anticipated and smoothness and/or appearance are important. Sanded plywood is available in several grades, which are based on the grade of the veneers and the panel construction.
Rated Sheathing
Plywood sheathing is ideal for residential and light construction. Every piece meets the highest grading standards for strength and appearance. It adds proven performance and durability to new homes, room additions and renovations. Plywood sheathing delivers outstanding stiffness, strength and versatility. It is an excellent choice for light frame wall and roof assemblies in weather protected applications.
OSB
Ideal for multi-story building designs, OSB (oriented strand board) is manufactured from waterproof heat-cured adhesives and rectangular wood strands that are arranged in cross-oriented layers, similar to plywood. This effect results in a structural engineered wood panel that shares many of the strength and performance characteristics of plywood. Produced in huge, continuous mats, OSB is a solid panel product of consistent quality with no laps, gaps, or voids. The manufacturing process makes it possible for panel makers to add innovative features such as a slip-resistant texture to panels designed for roof sheathing, and to supply oversized and metric panels.
Click on the image below to learn more about some of our most popular brands of lumber, plywood & OSB.