Company Overview
BlueLinx (NYSE: BXC) is a leading U.S. wholesale distributor of residential and commercial building products with both branded and private-label SKUs across product categories such as lumber, panels, engineered wood, siding, millwork, and industrial products. With a strong market position, broad geographic coverage footprint servicing 50 states, and the strength of a locally focused sales force, we distribute our comprehensive range of products to approximately 15,000 customers including national home centers, pro dealers, cooperatives, specialty distributors, regional and local dealers and industrial manufacturers. BlueLinx provides a wide range of value-added services and solutions to our customers and suppliers. We are headquartered in Georgia, with executive offices located at 1950 Spectrum Circle, Marietta, Georgia, and we operate our distribution business through a broad network of distribution centers.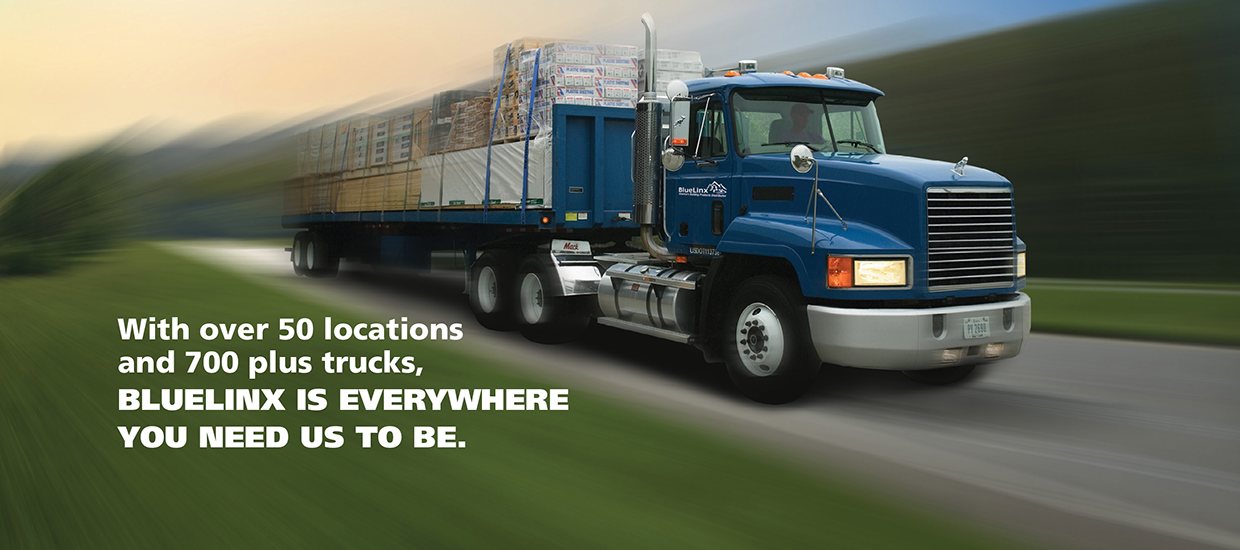 Question Everything We Do – Now and Forever
Take Ownership for Mistakes
Forget the Past – The Way We Did Things is Irrelevant
---
Common Goals
Individual Success Can Never be to the Detriment of the Team
Help Each Other Succeed
---
Honest
Candid
Respectful with Humility
---
Our History
The distribution division of Georgia-Pacific Corporation began operations in 1954 with 13 warehouses utilized for the storage and distribution of Georgia-Pacific plywood. Over the next 50 years, the division quickly grew to one of the largest platforms of building products distribution warehouses nationwide, offering a wide range of products. In May 2004, Cerberus Capital Management, along with a team of senior leaders from the division, purchased the assets of the distribution division from Georgia-Pacific, forming BlueLinx. In December 2004, BlueLinx successfully completed an initial public offering of its common stock, and began trading on the New York Stock Exchange under the symbol "BXC". In January 2014, BlueLinx hired Mitch Lewis as President and CEO to lead the organization, and commenced to build out one of the most talented organizations in the industry. In October 2017, Cerberus completed the public offering and sale of approximately 97% of its ownership interest in BlueLinx, and subsequently sold its remaining ownership interest in the company. In 2018, BlueLinx acquired Cedar Creek Holdings and its subsidiaries in a transformational acquisition for the company. Cedar Creek was established in 1977 as a wholesale building materials distribution company, that distributes specialty lumber, oriented strand board, siding, cedar, spruce, engineered wood products and other building products.. Beginning as one yard in Oklahoma, Cedar Creek expanded operations across the United States and offers a wide range of products that vary by region. The combined company creates one of the largest building products distributors in the country and is committed to providing the highest quality products available from the most reputable vendors in North America and internationally.
Purpose & Culture
At BlueLinx, delivering success is what our business is all about. We embrace an entrepreneurial spirit and pride ourselves on being responsive and solution oriented. We proudly live our three core values of continuous improvement, teamwork and integrity. We also believe our purpose is to "Be the Reason" that our customers have a great experience each and every day. Lastly, we strive to create an environment where all associates can excel, grow, and perform to their highest potential.
To Manufacturers
Reliable channels to market
Consistent production runs
Limits inventory investment
Allows limited number of customers
Limits credit risk and receivable investment
Creates markets for early life cycle products
---
To Customers
Reliable source of many materials
Break bulk quantities
Near 100% fill rates
Limits vendors, inventory investment and related carrying costs
Just-in-time deliveries
Safety stock
Distribution services
---